Analysis of Lowndes Animal Shelter Statistics
Animal Rescues Provide Hidden Benefits
By: Burton Fletcher, President & Founder
       Terri Ernissee, Designer & Technology Adviser
       Burton Fletcher Foundation for Animals, Inc.

Animal shelters throughout Georgia have been working to reduce the number of animals euthanized. The Valdosta, Georgia Animal Shelters' statistics for the Lowndes County Animal Shelter indicate that animals that enter the shelter system often result in undesirable euthanasia.
From 2000 through 2022, the Lowndes County Animal Shelter collected the following data, as illustrated in the graph below. The chart shows that from 2000 to 2009, there was an increase in intakes and euthanasia; rescues and adoptions were minimal. In contrast, 2010 marked the beginning of a gradual decline in inputs and euthanasia. In 2011, a pattern emerged indicating fewer intakes and deaths and a steady increase in animals rescued and adopted, creating an upsurge in live outcomes.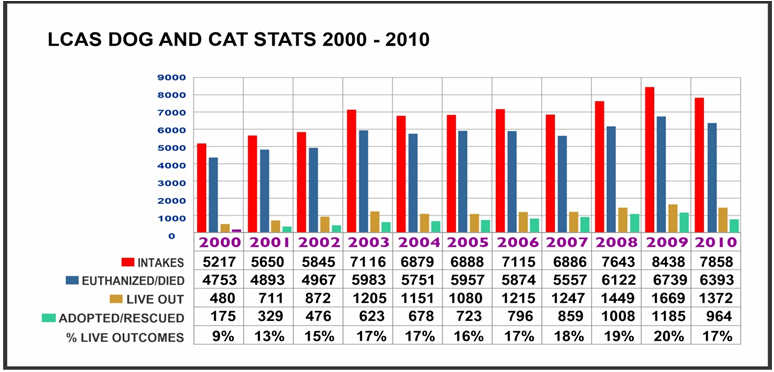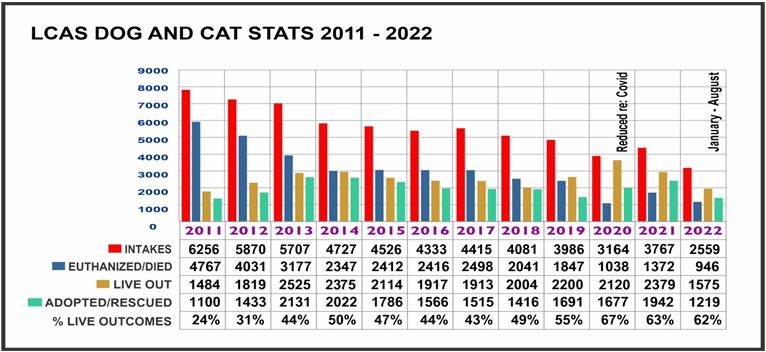 In the early years of this recording, there was a steady increase in the number of animals euthanized. In 2000, 4,753 animals were euthanized. In 2001, 4,893 were euthanized. In 2002, 4,967 were euthanized, and in 2003, 5,983 were euthanized. The high point for animals euthanized at the Lowndes County Animal Shelter was in 2009, when 6,739 animals were euthanized. It is encouraging to report that the number of animals euthanized has steadily declined since this high point, decreasing to 1,038 animals in 2020 and 1,372 animals in 2021. 
The decline in these numbers is quite likely attributable to various sources, including the hidden aid of local rescues who keep many animals out of the shelter, an increase in spay and neuter clinics, and an increase in the number of volunteer rescuers who vet, foster, and find homes for shelter-bound animals. This signifies that potentially even more animals are saved than those represented in the reported data because many of these animals never enter the Lowndes County Animal Shelter or neighboring counties' shelters.
According to the graph, the number of rescued and live-out animals began at a mere 655 in 2000. Over the years, the number of animals able to outlive the shelter has significantly and steadily increased, and by 2019, 3,891 dogs, puppies, cats, and kittens were adopted or were live outcomes.

While the number of animals rescued by animal rescue organizations and kept out of the animal shelters is much higher than the figures show, the Animal Shelters and Animal Rescue organizations work collaboratively and make a remarkable difference. The public needs to do its part by spaying and neutering animals to keep them and their offspring out of the Animal Shelter, and the government needs to do more to assist with low or no-cost spaying and neutering of animals.
Although there is still work to be done, the overall trend of fewer shelter animals results in decreased population control by euthanasia. People are starting to recognize that spaying and neutering is the only way to avoid the need to euthanize adoptable animals. And because nonprofits, volunteers, community advocates, and many animal organizations do not produce monthly reports on the number of animals they have saved, re-homed, spayed, neutered, transported, et cetera, the number of protected and rescued animals is significantly more momentous than the shelter animals' data indicates, which is a positive development.
In summary, the intake and euthanasia numbers have significantly dropped over 23 years. The big positive here is that the animal shelter and the rescue organizations are heroes for their diligent efforts as they work together to save the animals. 
As a final note and author's privilege, I, Burton Fletcher, would like to thank my team, Terri Ernissee, Amanda "Lexi" Pauley, and others who shall remain nameless for their many hours of researching and writing this article. I would also like to thank Ms. Linda Patelski, the Director of the Lowndes County Animal Shelter, and Ms. Peggy Moore of the Lowndes County Clerk's Office, who worked with us to get the numbers right! Our team spent many hours researching, drafting, and writing this article. Animal rescue and animal welfare are emotional issues. We may not agree on all matters but working together is best for all concerned as we hope never to lose sight that everything we do is for the animals!