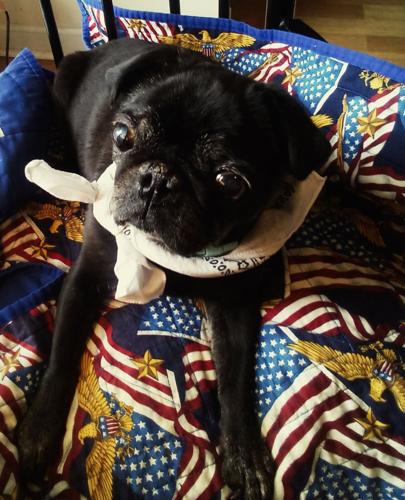 People's Choice Award: Athena Prine took this popular photo in the pet photo contest.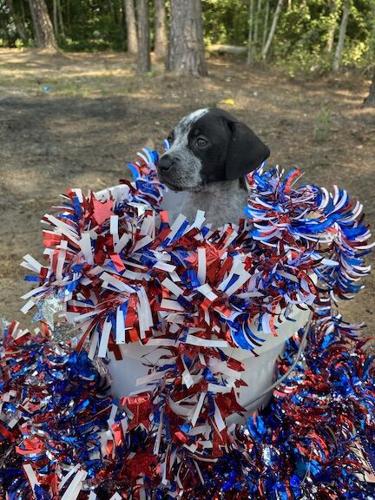 Jessica Ganas won second place in the pet photo contest.
VALDOSTA — A South Georgia animal organization has selected two winners in a pet photo contest.
The Burton Fletcher Foundation held its second national Patriotic Rescue Pet Photo Contest, which was judged based on depiction of the Fourth of July theme (40%), creativity (30%) and photo quality (30%), organizers said in a statement.
"The photo contest was held this year to shed light on the plight of animals in shelters," organizers said. "Despite many animals being 'euthanized,' we are hopeful for a new relationship with the county. Our foundation aims to raise awareness of needy animals and promote spaying and neutering."
Beth Fornuto won first place with a photo of her cat, Wallace. Senior Judge Javon Longieliere wrote, "This is such a sweet image of this little cat. I love how the placement of the cat creates a curve in the flag and draws attention to the cat itself. I love the extra props in the back and I appreciate that they are out of focus, so they are not distracting."
Fornuto will receive one Graffiti dog prize, plus a $250 prize to her animal rescue of choice and she has chosen Furry Purrs Rescue, located in Ellijay, to receive a donation in her name, plus a beautiful certificate noting her first-place award. Danza Smith is the founder of Furry Purrs Rescue; the motto of her nonprofit is "Every chance matters."
Jessica Ganas won second place. Longieliere wrote, "I'm not 100% sure what's going on here, but I think it's adorable. The dog is in a tub and can't be filled with holiday decorations anymore! So cute."
Ganas is a past recipient of the Best Small Animal Shelter Award, 2023, from the Burton Fletcher Foundation for her professionalism and management of the Lanier County Animal Shelter, organizers said. She wins a second-place award certificate, a Graffiti dog and $100, which will benefit the Lanier County Animal Shelter.
Jeana Strickland won third place. Judge Evelyn Davis-Walker wrote, "A strongly designed photo. The dog is sitting as a distinguished subject within the composition. There are a lot of directional lines leading the viewer throughout the photo. The bandana fits the patriotic theme." Strickland receives her third-place award certificate, Graffiti dog and a $50 donation to her animal rescue of choice, USA Rescue.
Beth Potratz took fourth place and Rebecca Elmore took fifth place. They will receive award certificates recognizing their accomplishments and other participants who demonstrated significant participation and compliance with the rules will also receive award certificates.
Athena Prine won the the People's Choice Award, "receiving a runaway number of votes, far exceeding all other participants," receiving 64 votes. She won a Graffiti Balloon Dog, which she received at a recent Burton Fletcher Foundation luncheon at Just Love Coffee Café.
In addition to Longieliere, a nationally recognized photographer based in Valdosta, and Davis-Walker, "a graphic designer, maker, educator and socially engaged art activist," judges were Ally Orenstein, an area artist/designer, and Steven S. Walker, a "professional artist and animal lover," organizers said.
Sponsors are Tim Conlon, J.D., attorney at Law of the Conlon Law Group, John Dukes, CPA of the accounting firm of Brandon, Rackley & Dukes, CPAs, and Fletcher, J.D., MBA (Ret.), emeritus attorney, for whom the foundation is named.
More details are on the website at https://BurtonFletcherFoundation/current-and-past-contests.