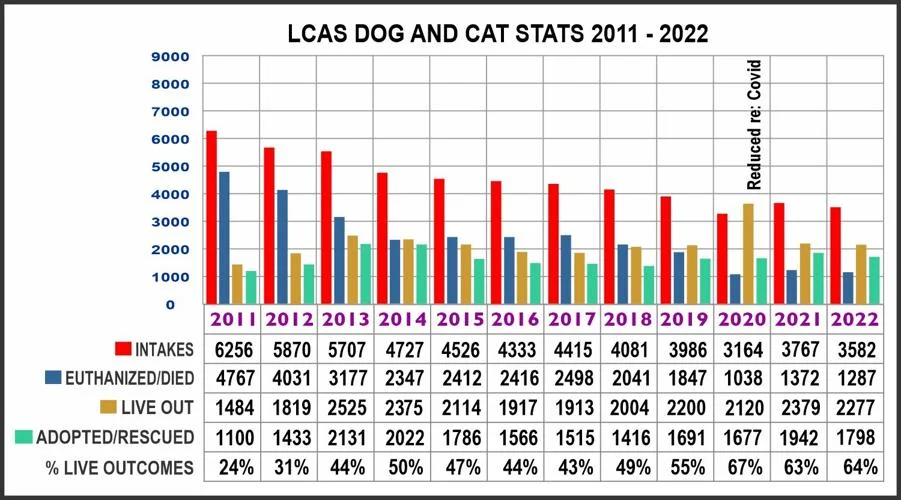 The Burton Fletcher Foundation for Animals, www.BurtonFletcherFoundation.org, has authored stories about the Lowndes County Animal Shelter before, so into a new year, we don't want to reiterate the abominable statistics of the past or replay the disappointing statistics of the present.
We also don't want to throw stones and make people feel bad. We are far from having a no-kill shelter in Lowndes County, where 90% of animals have live outcomes. We are 26% below the nationwide goal of being recognized as having a no-kill shelter.
I cannot see how spending $3.8 million for a new shelter will bring Lowndes County any closer to having a no-kill shelter. To paraphrase Albert Einstein, if we always do what we have done, then we will always have the same disappointing euthanasia statistics we have now.
We should never lose sight of the fact that every one of these statistics represents a life snuffed out of a dog, puppy, cat or kitten.
In fairness, the statistics at the shelter are much better than in 2000, when 91 out of 100 animals were killed and there were a measly 9% live outcomes. In 2022, there were 64% live outcomes, so we have improved, thanks to animal rescue organizations keeping many animals out of the shelter and pulling many more animals from the shelter annually.
A few highlights that stand out when we compared the most recent 11-year span from 2011 through 2022 to the earlier 11-year span from 2000 through 2010 include: Euthanasia deaths decreased by 54%, live outcomes increased by 50% and adoptions and rescues increased by 61%.
So, what can the county commissioners do differently to move Lowndes County toward a no-kill shelter?
First, Lowndes County needs a mandatory spay and neuter ordinance, with exceptions for professional breeders. Alternatively, Lowndes County should provide heavily discounted spay and neuter services to the economically disadvantaged in our community.
Second, animal rescue organizations should be honored monthly, quarterly or annually with financial awards and proclamations, when deserved, for the most significant number of animals pulled from the shelter and for other work in animal rescue.
Third, animal rescue organizations should receive compensation for every animal pulled from the shelter. It costs money to rescue animals and our county commissioners should help the animal rescue organizations with their life-saving efforts.
Fourth, the Internet can provide many animal-saving resources: Task someone with the county to create a Lost and Found Facebook page or assign someone to assist rescues or the shelter with uploading dog and cat information to adoption websites.
We believe that no adoptable animal should be euthanized until efforts have been exhausted to market that animal.
This is a partial list of ideas but it is more than what our county commissioners are doing now.
I'm not telling you it's going to be easy; I'm telling you it's going to be worth it.
I invite you to review the graphs the Burton Fletcher Foundation has prepared as part of our commitment to the animals of Lowndes County and our advocacy for animals, form your own opinions, and communicate your thoughts to our county commissioners and us. As a nonprofit 501©(3), we need your financial support.
Burton Fletcher is president and founder of the Burton Fletcher Foundation for Animals. Find this article on valdostadailytimes.com to view graphics.