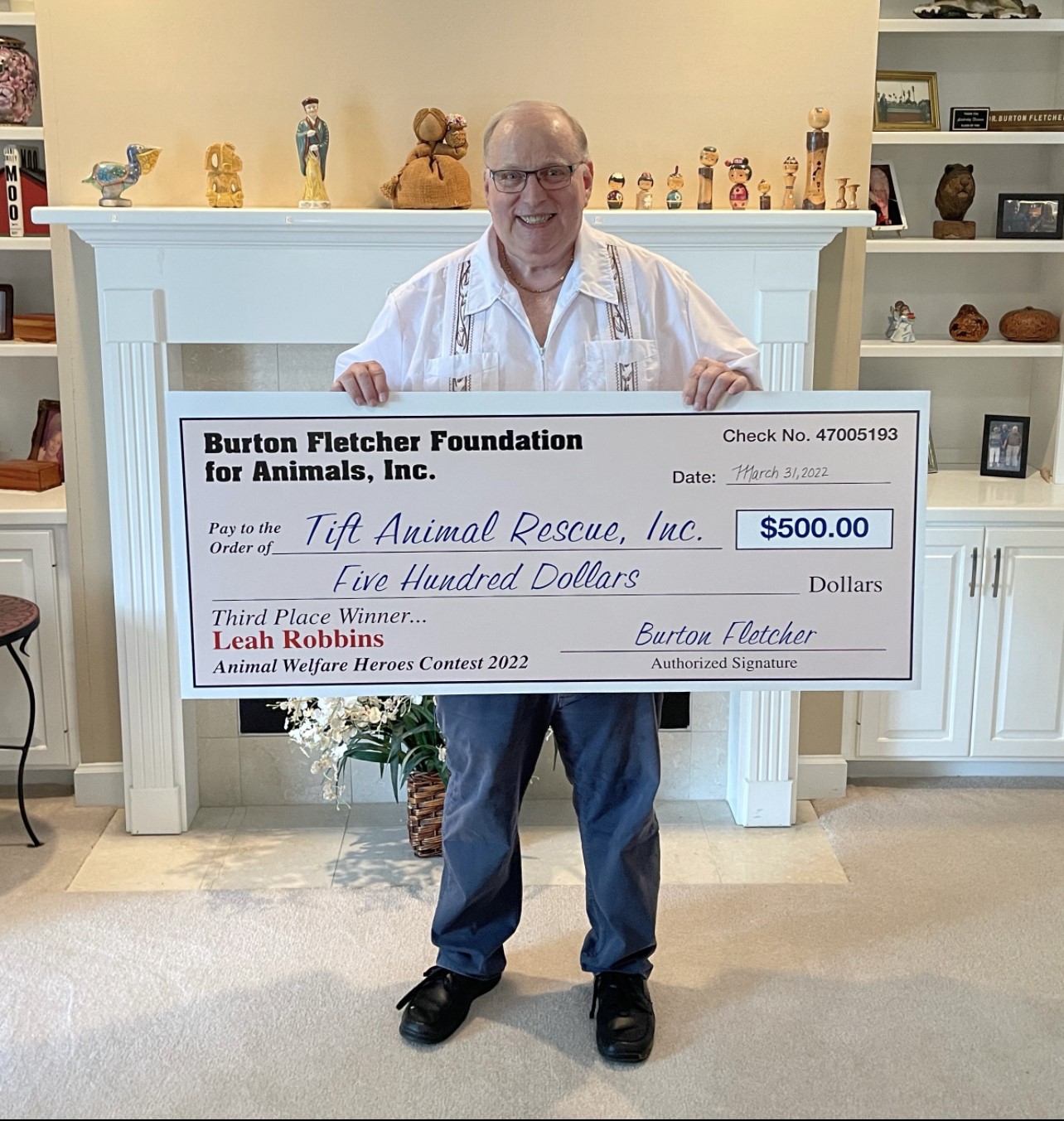 VALDOSTA — The Burton Fletcher Foundation for Animals has named its Animal Welfare Heroes 2022 Contest winners.
The contest was open to individuals working in animal rescue from South Georgia, contest organizers said in a statement.
"Our opinion is that South Georgia is blessed to have many animal welfare heroes. The foundation had 32 nominees who wished to participate in our contest," organizers said. "Other individuals did not consider themselves worthy and they withdrew their nominations. In the foundation's opinion, most of the individuals who were nominated are deserving of recognition."
For 2022, the senior judge was Linda S. Cole with Judge Katie Parsh serving in a supporting role. Both have many years in animal rescue.
"I'm completely humbled and honored to have been a part of the Burton Fletcher Foundation's Animal Welfare Heroes 2022 Contest," Cole said. "Judging this contest showed me that South Georgia has phenomenal animal welfare advocates and programs with totally heart-warming stories. Much credit goes to communities across South Georgia whose dedicated pet hero volunteers work, often dangerously and courageously, to save many innocent animals and pets, making healthier, safer and more loving communities. Congratulations to all. Please keep your 'pawsome' love moving toward your 90% non-kill goal."
Receiving the first-place award is Candas A. Bennett of Tifton, receiving a $1,250 prize that will benefit Paws Furever Home, an animal rescue located in Tifton.
"I am more than honored and can't say thank you enough to the judges," Bennett said. "This award comes when donations are down, dogs are dumped at alarming rates and animal abuse/neglect is high. This award will go a long way towards our extremely high vet bill."
Receiving the second- place award is Michelle Lynn Dupree of Statenville, receiving a $750 prize that will benefit Echols Animal Rescue, located in Statenville.
"Thanks to all our followers who have helped me make this difference because if not for your donations, I could not help the ones I do," she said in her nomination papers.
Dupree added her rescue has saved more than 2,200 animals since opening in 2009.
Receiving the third-place award is Leah Robbins of Tifton, receiving a $500 prize that will benefit Tift Animal Rescue.
"This contest has helped me in many ways. To read the kind words and compliments from those who nominated me and the comments on social media from those who voted for me made me realize people noticed my hard work and appreciated my dedication," Robbins stated in her nomination papers.
In addition to the prize money and public recognition, each prize winner will receive a certificate acknowledging their accomplishments, organizers said.
This year, the foundation has created three additional awards to recognize and honor individuals who have excelled in animal rescue in South Georgia. These individuals are Scott Bennett, who is recognized for the Entrepreneurship Courage Award; Susan P Jamerson, who is recognized for the Leadership Courage Award; and Danielle Cross and Lisa Marek, who split the prize and are both recognized for the Volunteerism Courage Award. Each of these award recipients will receive a certificate and each award will receive a $250 prize, organizers said. Short biographies of the winners and nominees can be found on the Burton Fletcher Foundation for Animals at www.BurtonFletcherFoundation. org. In addition to awarding first, second and third place and the special awards, the Burton Fletcher Foundation presented honorable mention certificates to other individuals for exemplary service to animal welfare organizations across South Georgia.
"In their way, all the nominees are noteworthy," Fletcher said. "Other individuals were nominated who we did not have sufficient supporting information this year to recognize their activities with animal welfare organizations. We encourage everyone in animal rescue organizations across South Georgia to participate actively in next year's contest."
The contest was designed to "recognize volunteers in South Georgia who often go unrecognized but are in the trenches regularly, ranging from writing grants, raising funds to pay the vet bills, physically pulling and saving dogs from the shelter, assisting with spaying and neutering, fostering animals, adopting, attending adoption events, vetting and medical coordination, conducting home visits to qualify a new home, recruiting volunteers, promoting the animals for adoption, advertising adoption events and fundraising events, managers of all of the activities, managers of the cash flow, people pushing local, state, and federal government laws, people donating items, time, and money, cleaning cages, dog training, transporting, finding lost animals," organizers said.
"In short, it takes a village to be successful in animal welfare."
Prof. Burton Fletcher, J.D., MBA (Ret.), the founder, president and director of the Burton Fletcher Foundation for Animals, said, "We are grateful to those who nominated these wonderful individuals and recognized them for their service to the animal welfare community We are incredibly appreciative to Senior Judge Linda S. Cole and Judge Katie Parsh for their hours of service in screening and selecting the winners from this year's impressive nominees."
Organizers added, "We wish to acknowledge and thank Dr. April Mathis, DVM and Dr. Michael A. Delaney DVM of Azalea City Animal Hospital, Clarence Spires of ReMax Realty, and Attorney Tim Conlon of the Conlon Law Group for their generous donations that benefit animal welfare in South Georgia."
Candas A. Bennett, winner of the Animal Welfare Heroes 2022 Contest, receives the award from Burton Fletcher.
SUBMITTED PHOTO
Bobbi Hall Rodgers, right, accepts the $750 check from Burton Fletcher on behalf of second-place winner Michelle Lynn Dupree of Echols Animal Rescue.
SUBMITTED PHOTO
Burton Fletcher holds a $500 check for third-place winner Leah Robbins of Tift Animal Rescue.
SUBMITTED PHOTO