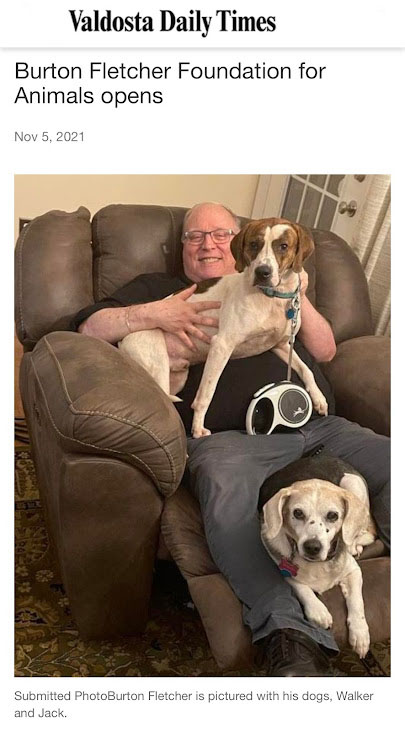 Source of Publication: Valdosta Daily Times
Date of Publication: Nov 5, 2021
A Valdosta resident has started an animal welfare organization.
Burton Fletcher, a retired college and university professor, who taught during a span of 27 years, and an emeritus attorney in Georgia admitted in 1981, has opened a nonprofit corporation titled the Burton Fletcher Foundation for Animals, organizers said in a statement.
"I had been retired for more than three years and I saw a need in our cornmunity to assist the animal shelter, humane societies and the residents of the area to facilitate animal welfare," Fletcher said.
"To date, I have incorporated as a nonprofit, adopted by-laws, obtained a tax ID and I have a operational board of experienced and dedicated community organizers with many years of leadership in our community benefifting animal welfare. We will be seeking grants to supplement the county's contributions to anirnal welfare," he said. "We will be announcing our plans at a later date but we are excited by the prospects for irnproving our community."
Fletcher said he has two dogs, and one, a beagle, was adopted from the Lowndes County Animal Shelter, and the other, a mixed breed, was a foster he said he recently adopted through the Humane Society of Valdosta/Lowndes County.