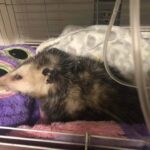 Nominator Info:

Nominee Info:
Name: Jessica Lynn Pisciotta
Organization helped: Steadfast Wildlife Rescue Rehab Inc
Reason for nomination: Jessica is a positive light in the rescue world. She has a fabulous personality and is truly pleasant and a joy to talk with. She puts the animals under her care above all else. A five star rescuer!!