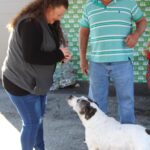 Nominator Info:
Name: Bobbi Pohlman-Rodgers

Nominee Info:
Organization helped: Echols Animal Rescue
Reason for nomination: Since I moved to the area in 2019, I have been amazed by Echols Animal Rescue and the one person who runs it. Michelle Dupree has been doing for the county for over 15 years, with no financial support from the county and often no assistance from local law enforcement. Run from her own home, she may have up to 15 dogs with her and numerous fosters in place. Day in and day out, it is about the animals. She fund raises, sells items, and begs for donations for these animals. She has no time for herself. I've seen her cry when an animal cannot be helped. She is my Animal Hero!