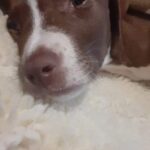 Nominator Info:

Nominee Info:
Name: South Georgia equine rescue Heather Gavitt
Organization helped: She helps all animals
Reason for nomination: Heather runs a rescue with the help of her young daughter. I have seen and watched Heather continuously help animal after animal, and give until she can't give anymore. Heather is such a deserving and wonderful person! I met Heather when my grandmother's pup (pictured below) was attacked by two pitbulls at just 2 months old, she was left almost lifeless, with a very bad brain injury and Heather covered this pups whole entire bill without even ever meeting us! Heather has spent almost 1k just trying to catch a stray who is very sickly and injured. She goes above and beyond for all types of furbabies! She is a wonderful person, and this award could help so many animals!!