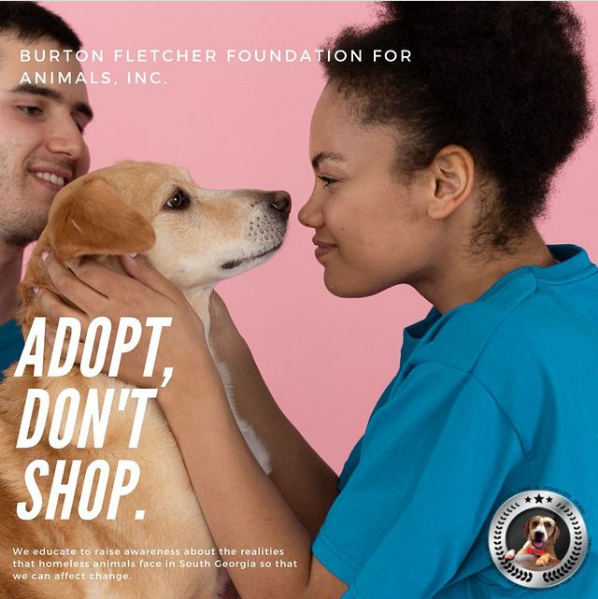 Foundation Raises Animal Rescue Awareness With Holiday Photo Contest: Enter Your Dog!
To raise awareness for homeless animals in shelters, The Burton Fletcher Foundation has cooked up quite the holiday contest! Capture a festive photo of your rescue pup with a theme of "Happy Holidays," and submit it to win.
A thousand dollars in cash prizes will go to the merriest of pups!
Does your rescue dog have what it takes to support a great cause while looking dashing and festive? Only one way to find out!
The Burton Fletcher Foundation Is Paw-some
We're pretty thrilled with The Burton Fletcher Foundation's festive approach to awareness and their entire mission in general.
Based in Georgia, the foundation was founded by Burton Fletcher, an emeritus attorney, as well as a retired professor of business administration. He spent 27 years teaching in various colleges and universities.
The foundation itself is a nonprofit, tax-deductible corporation "dedicated to improving the plight of abused, injured, abandoned, and feral animals in South Georgia."
They strive to find these animals forever homes and work to "unite hearts of the community to provide services, affection, dignity, and respect to these deserving animals."
Furthermore, they provide opportunities for anyone who loves animals to "volunteer, foster, adopt, advocate, or donate, so homeless animals can count on you."
Enter Your Dog In Their Contest!
The foundation's photo contest is accepting submissions from anywhere in the United States until December 15th, 2021, reports the Valdosta Daily Times.
They hope that it will provide an opportunity for "adopted dog owners to share the love of their pet" while spreading awareness about how wonderful rescue dogs are.
To be eligible, you must be at least 18-years-old, live in the United States. Contestants also cannot be related to anyone who works for the foundation.
You may enter by submitting ONE black-and-white photo and/or ONE color photo. You don't need to submit both, but you can submit one of each type if you like.
A panel of judges will determine the winners once the entry period concludes. They'll base their judging of the photos 40 percent on creativity, 30 percent on theme appropriateness, and 30 percent on picture quality.
Requirements for entry are a bit more extensive, so be sure to read through them. You can also use the link to find the full details of the contest laid out.
And if you want to get a little bit of an advantage, you can check out DogTime's full guide to getting the best pictures of your dog here!
May the merriest rescue pup win!
Will you be entering your dog in this awesome holiday photo contest from The Burton Fletcher Foundation? Do you think it will help raise awareness for shelter animals?