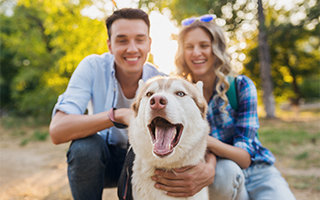 I Adopted A Human, Author Unknown
"Today I adopted a human! It broke my heart to see him so lonely and confused, but suddenly I got his teary eyes to meet mine. I don't like the smell of sad, and I wanted to jump on him so badly. He spoke to me with cuteness as he passed by, and I knew it; I had to rescue him. That human needed me. So, I barked with all my strength, and I followed him for blocks and blocks.
I got close; I could smell his hands. The human smiled for an instant, and when he took me into his arms, I started to feel his ice cream heart warm. I approached his cheeks and felt a tear roll down them. I looked at him deeply, and his response was a brilliant smile. I jumped excitedly in his arms. I promised to behave, love him forever, and never part from his side.
How lucky he was to go through that block, down that street, and I feel lucky too. There were so many people walking around, but no one was looking at me. All worried, all in their troubles. Glad no one else chose me. Today I saved a life. Today I adopted a human."
Document edited by the Burton Fletcher Foundation for Animals, Inc.