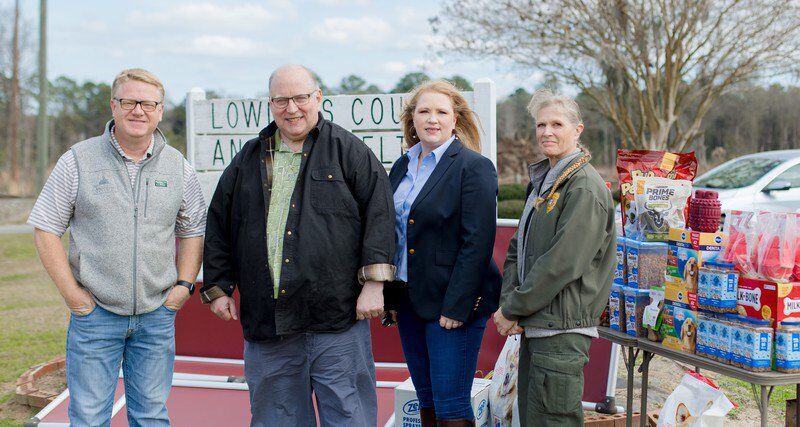 VALDOSTA — A local animal foundation recently made a donation to the Lowndes County Animal Shelter.
"I reached out to the Lowndes County Animal Shelter last fall, inquiring about the needs of the shelter. We received a wish list and we decided to help," said Burton Fletcher, J.D., president and founder of the Burton Fletcher Foundation for Animals, a nonprofit corporation.
Fletcher and volunteers Sara Loomis, Nancy and Daniel Griffin made the presentation at the shelter, foundation representatives said in a statement.
"Initially, we gave 10 Kuranda beds and 10 repair kits for Kuranda beds for an additional 10 beds late last year," Fletcher said. "In addition to Kuranda beds, we gave treats for the dogs. We were able to persuade a for-profit organization to follow our lead and they also gave a thousand-dollar donation consisting of Kuranda beds and supplies. We believe partnerships between government, nonprofits and proprietary organizations are important for our community."
"We are incredibly grateful to the Burton Fletcher Foundation and its volunteers for their supportive donations to the Lowndes County Animal Shelter," said Scottie Orenstein, Lowndes County commissioner. "We are thankful for local community groups who continue to give back to our animals and the shelter."
As an advocate for Animal Welfare, the Burton Fletcher Foundation for Animals supports the Lowndes County Animal Shelter by providing elevated, chew-resistant beds and repair kits, supplied by Kuranda, for the dogs contained in an environment that is new and stressful for them, organizers said.
"Everyone can appreciate the benefits of a good night's sleep and dogs are no different," Fletcher said. "Dogs that are relaxed and happy are more adoptable. Kuranda beds are comfortable bedding in a stressful atmosphere. These beds are chew-resistant and elevated providing a restful sleep for the dogs, making them more adoptable.
"This year, we are again giving treats, including 10 Kong, 10 Benebone and 10 Satino dog chew toys, 20 large jars of peanut butter, dog food, Maro snacks, Milk Bones, bags of cat treats, Pine-Sol, paper towels, spray bottles, cleaning cloths, air freshener, bleach cleaner, and more to lead by example in the community. Our donations to the Lowndes County Animal Shelter totals close to $2,500 in much-needed bedding and supplies. We are a little charity, doing big things, with great heart."
"The Lowndes County Animal Shelter is very thankful for the generous donation from the Burton Fletcher Foundation," said Meghan Barwick, Lowndes County public information officer. "These types of donations ensure pets have a more comfortable stay while waiting for citizens to reclaim or adopt them."
Fletcher, in addition to his leadership as founder of the Burton Fletcher Foundation, is an emeritus attorney, and retired full professor of business administration.
"There is a great need for fosters, adopters, volunteers, donors and sponsors in the animal welfare community, and it is just good business for corporations to align themselves with a foundation such as ours, which is dedicated to animal welfare," he said.
The Burton Fletcher Foundation for Animals is a nonprofit, tax-deductible corporation dedicated to rescuing injured, abused, abandoned, and feral animals in South Georgia. The foundation support organizations, charities and residents in need, who treat animals with dignity and respect, and provide affection, care and a safe refuge to animals during their journey to forever homes.
The Burton Fletcher Foundation has a contest to recognize Animal Welfare Heroes in South Georgia with $2,500 in prizes that go directly to animal welfare organizations. Details can be found on the website at www.BurtonFletcherFoundation.org.