VALDOSTA – Mayor Scott James Matheson recently honored the Burton Fletcher Foundation for Animals with a proclamation for its Second Annual National Patriotic Rescue Pet Photo Contest.
The proclamation "captures our service to promote mandatory animal sterilization, reduction of euthanasia to achieve 'no-kill' shelter status and benefits for the animal rescue community so eloquently, since our founding on Sept. 21, 2021," foundation representatives said in a statement.
"Our foundation has worked most diligently as a small nonprofit since our founding to provide unique contributions to the animal rescue community. We are indebted to our very honorable mayor who thought enough of us to grant us this proclamation."
Tara B. Parker attended the ceremony and Matheson said "she opens many doors."
"She seems to be everywhere," foundation representatives said. "The Burton Fletcher Foundation shares this wonderful proclamation with her."
"Mrs. Parker has been my most trusted adviser and my best friend," Burton Fletcher said. "She has helped us earn our trademarked motto, 'We are a little charity, doing big things, with great heart.'
"Her advice and mentorship have propelled my foundation from the shadows to where the Burton Fletcher Foundation is today. We could not have accomplished so much in such a short period of time without her advice, loyal friendship and our special bond. The person at the top of an organization never deserves all the credit."
The Second Annual National Patriotic Rescue Pet Photo Contest competition runs throughout June.
More details are on the website at https://www.burtonfletcherfoundation.org/current-and-past-contests/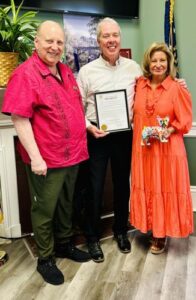 Burton Fletcher, Mayor Scott Matheson and Tara B. Parker at the proclamation presentation.
Submitted Photo