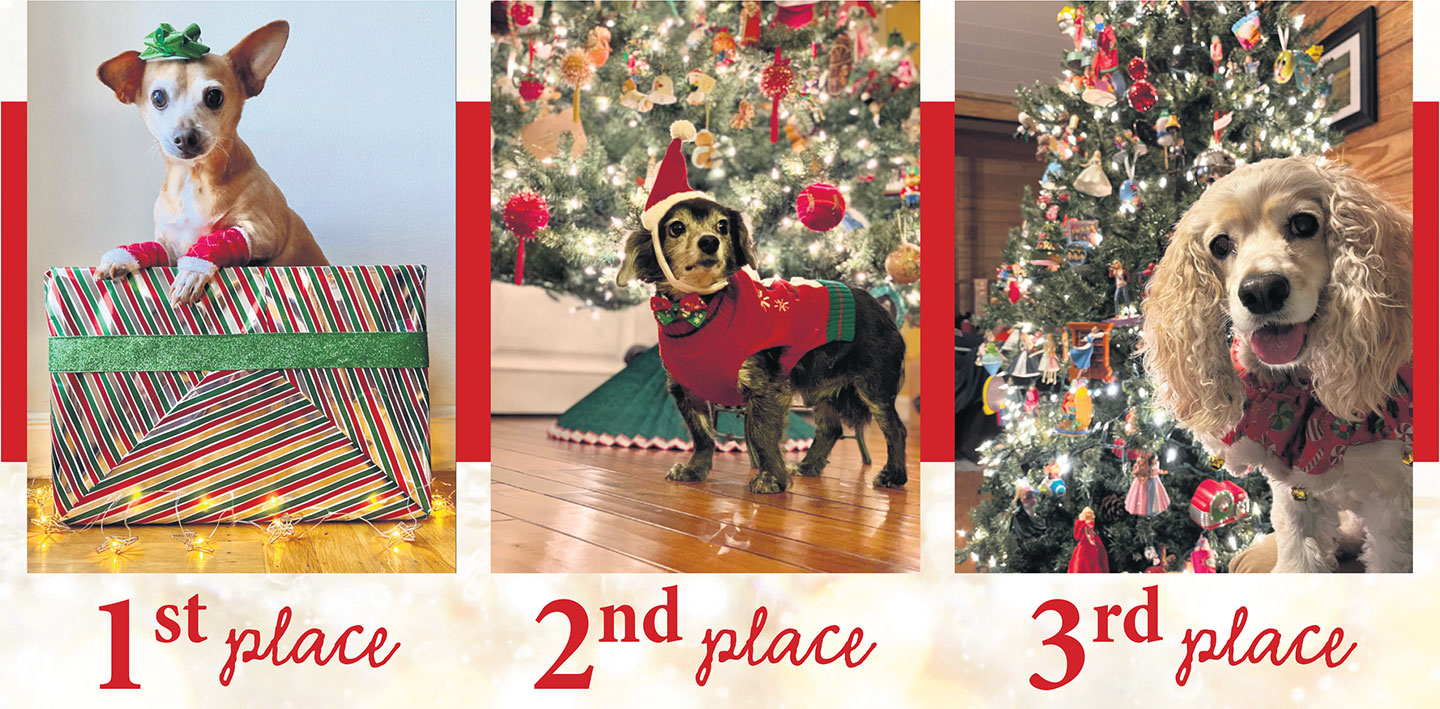 NATIONWIDE 2021 SHELTER/ANIMAL
WELFARE ADOPTION DOG
"HAPPY HOLIDAYS!" PHOTO CONTEST!
Sponsored By The Burton Fletcher Foundation for Animals, Inc.
Burton Fletcher, the President and Director of the Burton Fletcher Foundation for Animals, Inc. has announced the winners of their Nationwide 2021 Shelter/Animal Welfare Adoption Dog "Happy Holidays!" Photo Contest.
Burton stated, "We feel that our first-annual nationwide contest helps educate the public that there are a great many beautiful dogs available for adoption in our communities through our animal shelters and animal welfare organizations. We encourage people to adopt rather than shop and buy!"
Photos of the first-, second-, and third-place winners, along with other contestants, can be viewed on the foundation's website. See www.BurtonFletcherFoundation.org for a complete list of rules and photos.
Judges
Our esteemed panel of judges consisted of Sementha Mathews, Marley Sinclaire and Damian Grey. Ms. Sementha Mathews is the Executive Director for the Turner Center for the Arts in Valdosta, www.turnercenter.org. Ms. Marley Sinclaire recently opened Wild Magnolia Studio, www.marleysinclaire.com where she specializes in creative portraits. Mr. Damian Grey is the owner of Film Story, www.myfilmstory.com where he provides video content.
Though not a judge, facilitating this contest was Mrs. Tara Parker, a well-known animal rescue advocate throughout South Georgia.
Burton asserted, "I want to thank Ms. Mathews, Ms. Sinclaire, Mr. Grey, and Mrs. Parker for their contributions to this contest. We made an excellent team!"
Prof. Burton Fletcher is an emeritus attorney and retired full professor of business administration. He said, "We provide those who work with us considerable benefits with publicity through our marketing and press coverage of our events." The Foundation is a tax-deductible, non-profit dedicated to assisting Animal Shelters and Animal Welfare Organizations as they seek to fulfill their missions to care for injured and homeless animals in South Georgia. We seek advertisers, donors, sponsors, and volunteers to carry out our mission of aiding animal rescue organizations.