THE ANIMAL WELFARE HEROES COMPETITION 2023
Enter January 1, 2023 – February 15, 2023, at noon
Winners Will Receive Acknowledgment and Publicity for Their Contribution to Animal Rescue
Hosted & Sponsored by The Burton Fletcher Foundation for Animals, Inc.
The Burton Fletcher Foundation for Animals will again accept nominations for the second annual Animal Welfare Heroes Competition 2023. The competition recognizes individuals and organizations who have contributed to improving animal welfare and saving homeless animals across South Georgia and North Central Florida. The competition will begin on January 1, 2023, and end on February 15, 2023, at noon.
This competition honors numerous individuals and organizations in Animal Rescue. There will be top winners selected. Each nominated animal welfare hero and their animal welfare organization selected will be listed on the foundation's website at www.BurtonFletcherFoundation.org.  All nominations and votes must be submitted on the foundation's website. 
The foundation also reserves the right to nominate exceptional local animal welfare heroes and reminds all participants that each nominee is already a winner who deserves community recognition. Everyone wins each time a homeless, unwanted animal is saved and adopted, and more animals are spayed and neutered.
Just by participating, all nominees and their chosen nonprofit animal welfare organizations will benefit from extensive community recognition and publicity. An independent panel of judges, and Burton Fletcher, the president, and director of the Burton Fletcher Foundation for Animals, Inc., will evaluate nominations and select winners. Burton Fletcher, in this and all contests is the final arbiter. His decisions are not subject to appeal.
No purchase is necessary to nominate or to win.
PLEASE FILL AND FOLLOW THE CONTEST RULES BELOW
We have included a list of eighty-eight possible (but not exclusive) awards in a separate tab below. Please scroll down to the Brown Tab immediately below to view the entire list. A directional arrow signifies Current Winners. Follow the link to review all potential rewards. The recipients of these additional awards will receive an appropriate certificate or awards.
1. First Place Award

2. Second Place Award

3. Third Place Award

4. Leadership Courage Award

5. Entrepreneurship Courage Award

6. Volunteerism Courage Award

7. Animal Rescue Donor Award

8. Animal Rescue Educator Award

9. Animal Rescue Fundraiser Award

10. Animal Rescue Grant Writer Award

11. Animal Rescue Promoter Award

12. Animal Rescue TNR – Trap, Neuter, Release Hero Award

13. Animal Rescue Transporter Award

14. Animal Shelter Courage Award

15. Animal Welfare Advocacy Award

16. Animal Welfare Communications Hero

17. Animal Welfare Communicator Award

18. Betty White Philanthropy Award

19. Corporate Rescue Support Award

20. Government Animal Welfare Hero Award

21. Honorable Mention Award

22. Longest-Serving Nonprofit Animal Rescue Organization Award

23. Most Dedicated Volunteer Award

24. Most Effective Animal Shelter Award

25. Most Improved Animal Shelter Award

26. Nursing Home Animal Rescue Award

27. Outstanding Animal Rescue Educator

28. Outstanding Animal Rescue Financial Manager

29. Outstanding Animal Rescue Leadership Award

30. Outstanding Animal Rescue Lobbyist

31. Outstanding Animal Rescue Promoter

32. Outstanding Animal Rescue Safe-Trapper Award

33. Outstanding Animal Rescue Transportation Coordinator

34. Outstanding Animal Rescue Volunteer Attorney Award

35. Outstanding Animal Shelter Award

36. Outstanding Animal Shelter Volunteer

37. Outstanding Animal Welfare Public Services Officer Award

38. Outstanding Corporate Animal Rescue Support Award

39. Outstanding Rescue Dog Trainer Award

40. Outstanding Government Animal Welfare & Rescue Agency

41. Outstanding New Nonprofit Animal Rescue Organization

42. Outstanding New Rescue Group

43. Outstanding Nonprofit Animal Welfare & Rescue Organization

44. Outstanding Public Services Officer

45. Outstanding Puller From Animal Shelters Award

46. Outstanding Puppy Rescue Hero

47. Outstanding Rescue Activity Manager Award

48. Outstanding Rescue Adoption Coordinator

49. Outstanding Rescue Attorney Volunteer

50. Outstanding Rescue Cash Flow Manager

51. Outstanding Rescue Donor

52. Outstanding Rescue Foster Parent

53. Outstanding Rescue Fundraiser

54. Outstanding Rescue Grant Writer

55. Outstanding Rescue Group

56. Sparkplug Award

57. Outstanding Rescue Lobbyist

58. Outstanding Rescue Promoter

59. Outstanding Rescue Transporter

60. Outstanding Rescue Trapper

61. Outstanding Rescue Veterinarian Award

62. Outstanding Rescue Veterinarian Donor

63. Outstanding Rescue Veterinarian Volunteer

64. Outstanding Spay & Neuter Veterinarian

65. Outstanding Veterinarian Spay & Neuter Hero

66. Outstanding Rescue Volunteer of Money

67. Outstanding Rescue Volunteer of Time

68. Outstanding Resource for Locating Lost Animals Award

69. Outstanding Senior Dog Hero

70. Outstanding Shelter Medical Coordinator

71. Outstanding Shelter Rescue Coordinator Award

72. Outstanding Shelter Volunteer Award

73. Outstanding Transport Coordinator

74. Outstanding Trap, Neuter, Release Hero

75. Outstanding Vetting/Medical Coordinator

76. Outstanding Volunteer Financial Support to Animal Rescue Award

77. Outstanding Volunteer of the Year

78. Outstanding Volunteer of Time to Animal Rescue Award

79. Outstanding Wildlife Rescuer Award

80. People's Choice Award (Most Votes!)

81. Public Support Award

82. Puppy Rescue Hero Award

83. Rescue Animal Foster Parent Award

84. Rescue Leadership Award

85. Senior Animal Shelter Award

86. Senior Dog Rescue Hero Award

87. Shelter Courage Award

88. Shelter Courage Volunteer
Burton Fletcher, the judges, the foundation's directors, and the Burton Fletcher Foundation for Animals, Inc. have complete discretion over whether to grant the awards above. Burton Fletcher shall make the final determination regarding all awards.
Contest Period:
Contest nominations are accepted on January 1, 2023, until the competition ends on February 15, 2023, at noon.
Competition Eligibility:
Internet access and email address are required for participation.
The contest is open to legal residents in the South Georgia Counties plus the North Florida Counties of Hamilton, Suwannee, Madison, and Columbia, who are at least eighteen (18) years old. Employees, immediate family, or household members of The Burton Fletcher Foundation for Animals, Inc., or its affiliated entities are not eligible to enter.
How to Nominate:
Visit this contest on www.BurtonFletcherFoundation.org  to nominate. A nominee may be either an individual or an organization. All nominations must include the individual's name or organization name (if applicable), and email address of the nominated person or organization and the nominator on the entry form submitted on the foundation's website. Entries missing any required information will be disqualified.
In 1,000 words or less, describe why your nominee is the Animal Welfare Hero for 2023. The nomination document should tell the complete story of a nominee's activities and contributions to animal welfare to help or save homeless and unwanted animals.
Any person may submit  nominations for individuals or organizations who meet the nomination requirements. Nomination details can be changed through midnight of February 14, 2023, before the final day of the competition. Before submitting a nomination, please coordinate with any nominee to complete the entry fully and accurately.
The nomination document should tell the complete story of a nominee's activities and contributions to animal welfare to help or save homeless and unwanted animals. Specific examples and details are essential and increase a nominee's chances of becoming a winner. Extensive community recognition and promotion are additional benefits to nominees in this contest.
The use of automated systems is prohibited and will result in disqualification. The foundation is not responsible for lost, late, incomplete, invalid, illegible, false, or misdirected nominations.
Nomination & Judging Criteria:
After the nomination deadline, February 15, 2023 at noon, the judges and Burton Fletcher, founder, and president of the Burton Fletcher Foundation for Animals, Inc., will evaluate all eligible nominations. Judging will be based upon these criteria: successful animal welfare activity, rescue, or adoptions of homeless, unwanted, or abused animals or those in other critical situations, grant writing, sponsorships, donations, fostering, volunteering, communications, and other significant support efforts.
How to Vote:
Visit the foundation's website at www.BurtonFletcherFoundation.org.
Anyone can vote, and no nomination or purchase is required. Individuals may vote up to five (5) times, but only once for each nominee.
On the Nomination Form on the right side will be a tab for nominated entrants. Click on the tab to review each hero who has been nominated.
Awards:
There will be Top Winners and their chosen nonprofit animal welfare organization.
The theme of this year's competition is to recognize individuals who have contributed to improving animal welfare and saving homeless animals. The top placement winners and their nonprofit animal welfare organization will benefit from extensive community recognition along with website, social media and newspaper publicity. Other winners may be named and receive honorable mention status. All winners will receive an award certificate.
Rules:
There is a limit of one competition winner per person or nomination submitted for the top three honors, though individuals may earn more than one award for subordinate honors.
By entering the competition, participants grant the foundation all permissions necessary and royalty-free to display, post, publish or broadcast in all media or otherwise use the submitted nomination information for promotion and marketing. This includes, but is not limited to, property, copyrights, trademarks, or other rights in materials or other items.
Submitted information should not be offensive, threatening, defamatory, or libelous. Nor should it contain offensive, violent, indecent, sexual, abusive, or discriminatory content, not in compliance with the community-oriented nature of this competition.
Submitted information must not contain material that infringes upon, infracts, or misappropriates any law or regulation or the rights of any third party. It must not violate any publicity rights, privacy, or other intellectual property or proprietary rights.
Participation in the competition constitutes full and unconditional agreement to all rules, including the judges' and sponsor's decisions, which are final and binding. Winning is contingent upon fulfilling all contest requirements.
Winner Notification:
Competition winners will be notified by email at the addresses provided on the entry form. If a winner cannot be contacted within five (5) days after the date of the first contact attempt, or the notification is returned as undeliverable by mail, the winning is forfeited. The sponsor reserves the right to award the winning to another nominee.
The Burton Fletcher Foundation for Animals, Inc. will determine the winners within four weeks after the contest's conclusion on February 15, 2023, at noon.
General Conditions:
The sponsor reserves the right to cancel, suspend or modify the competition if necessary or disqualify any individual who violates contest rules.
Release and Limitations of Liability:
By participating in the competition, nominators and nominees agree to release and hold harmless the sponsor and affiliated entities, free from any claim arising from participation.
Disputes:
Any claims regarding the validity or enforceability of the contest rules, rights, and obligations of nominators and nominees or the sponsor shall be governed in Valdosta, Georgia, and by the State of Georgia and U.S. laws Federal Laws.
Collection & Use of Personal Information:
Entry into the competition constitutes agreement to the sponsor's collection, use, and disclosure of the nominator and nominee's personal information submitted on the entry form. Information includes but is not limited to names, addresses, photos, likenesses, and statements for publicity and marketing.
Thank you for supporting animal welfare in our community and participating in this competition to recognize and honor The Animal Welfare Heroes of 2023.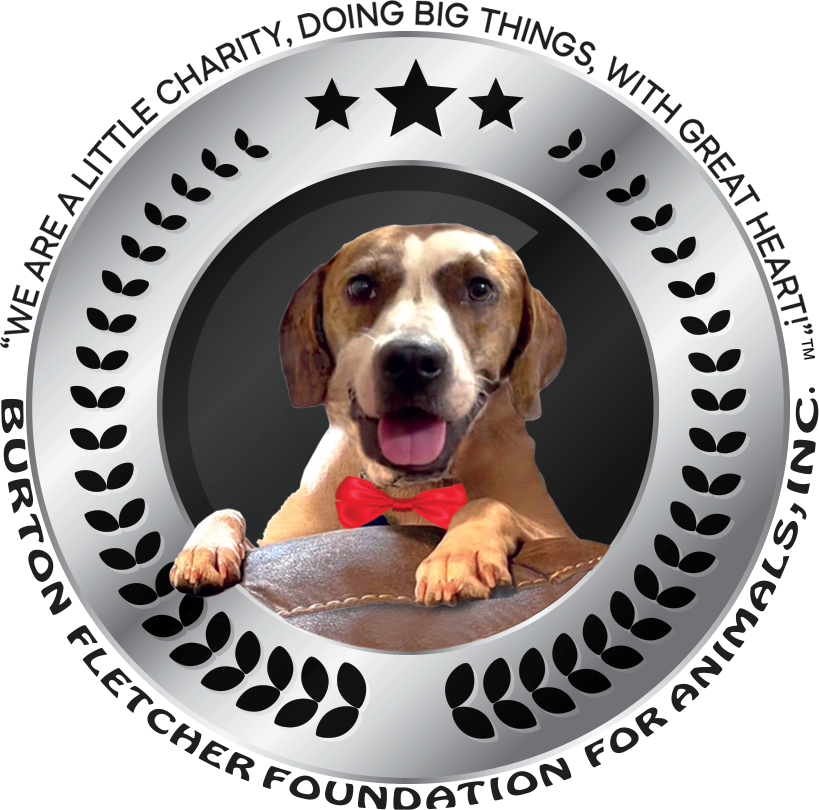 We are a 501(c )(3) corporation, and contributions are tax-deductible.
Privacy Policy
The Animal Welfare Heroes 2023 Competition
Hosted by The Burton Fletcher Foundation for Animals, Inc. http://www.BurtonFletcherFoundation.org
Copyright © 2022 – 2023 Burton Fletcher Foundation for Animals, Inc.
All Rights Reserved.
Got A Question?
Contact Us